Product Description
CUMMINS marine diesel generator set components are Donfeng CUMMINS (DCEC) and Chongqing CUMMINS (CCEC). Dongfeng CUMMINS (DCEC) is mainly committed to low-power units, and its power range from 24 to 419KW, while Chongqing CUMMINS (CCEC) focuses on the engines with coverage from 254 to 1429KW.

Δ CUMMINS MARINE DIESEL GENERATORS FROM 40KW TO 1000KW
1) Powered by genuine CUMMINS marine engines.
2) Equipped with heat exchanger and sea water pump for marine application.
3) Brand new marine alternator with 100% copper wires, Three Phase, 50/60Hz, 1500/1800RPM, H insulation class, IP23 protection grade.
4) Digital control panel with emergency stop and alarm system.
5) Heavy-duty fabricated steel based frame.
6) Complete set mounted on the based frame with anti-vibration mounting pads.
7) 24V DC electric start system with maintain-free batteries.
8) Full set of drawings, manuals and test reports.
9) Equipped with silencer and blexible connects and elbows.
10) CCS certified (Including diesel engine, alternator and control box)

Δ TESTING ITEMS
GENLITEC POWER provides a full line of brand new and high quality products.
Each and every unit is strictly factory tested before shipment.
1) Parts faults testing
2) Fuel tank pressure testing
3) Bolt tightening torque testing
4) Painting thickness testing
5) Voltage bearing and insulation testing
6) Noise testing
7) Loading Testing: 25%, 50%, 75%, 100%, 110% load to check verify that all control systems, alarm and shut-down protection.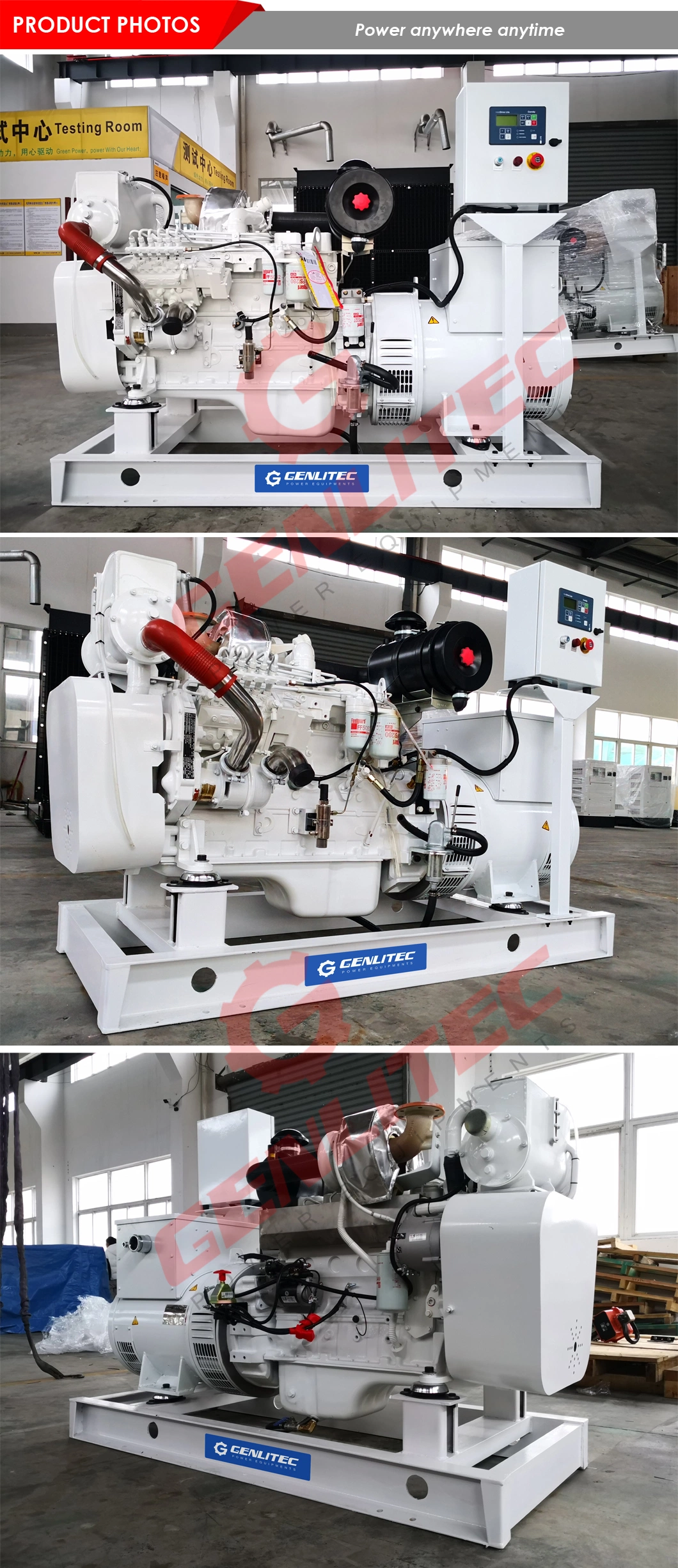 GENERATOR SET

CUMMINS ENGINE

DIMENSION

WEIGHT

MODEL

PRIME POWER

FREQUENCY

MODEL

POWER/SPEED

kW

kVA

Hz

kW/RPM

L×W×H(mm)

(kg)

GPC50M5

40

50

50

4BTA3.9-GM47

47/1500

1670*850*1270

800

GPC63M5

50

62.5

50

6BT5.9-GM83

83/1500

1900*900*1300

1000

GPC80M5

64

80

50

6BT5.9-GM83

83/1500

1900*900*1300

1100

GPC94M5

75

93.8

50

6BTA5.9-GM100

100/1500

1900*900*1300

1250

GPC113M5

90

112.5

50

6BTA5.9-GM100

100/1500

2023*900*1300

1300

GPC125M5

100

125

50

6CT8.3-GM115

115/1500

2080*900*1360

1650

GPC150M5

120

150

50

6CT8.3-GM115

115/1500

2120*900*1360

1700

GPC188M5

150

187.5

50

6CTA8.3-GM155

155/1500

2220*1000*1790

1720

GPC200M5

160

200

50

6LTAA8.9-GM200

200/1500

2250*1000*1790

1750

GPC250M5

200

250

50

N855-DM

240/1500

2760*1000*1790

2700

GPC313M5

250

312.5

50

N855-DM

284/1500

2760*1000*1790

2800

GPC350M5

280

350

50

N855-DM

317/1500

2998*1000*1790

2950

GPC375M5

300

375

50

K19-DM

358/1500

2998*1000*1790

3360

GPC438M5

350

437.5

50

K19-DM

410/1500

3170*1000*1920

3480

GPC500M5

400

500

50

K19-DM

448/1500

3170*1000*1920

3650

GPC850M5

680

850

50

K38-DM

746/1500

4050*1500*2480

7200

GPC1000M5

800

1000

50

K38-DM

880/1500

4100*1500*2480

7350

GPC1250M5

1000

1250

50

K50-DM

1097/1500

4500*1500*2480

9500

GPC50M6

40

50

60

4BTA3.9-GM65

65/1800

1670*850*1270

700

GPC63M6

50

62.5

60

4BTA5.9-GM65

65/1800

1760*900*1300

720

GPC80M6

64

80

60

6BT5.9-GM100

100/1800

2023*900*1300

950

GPC94M6

75

93.8

60

6BT5.9-GM100

100/1800

1980*900*1300

980

GPC113M6

90

112.5

60

6BTA5.9-GM120

120/1800

1980*900*1300

1000

GPC125M6

100

125

60

6BTA5.9-GM120

120/1800

2100*810*1360

1080

GPC150M6

120

150

60

6CTA8.3-GM175

175/1800

2120*900*1360

1350

GPC188M6

150

187.5

60

6CTA8.3-GM175

175/1800

2180*900*1360

1420

GPC313M6

250

312.5

60

N855-DM

287/1800

2880*1000*1790

2560

GPC350M6

280

350

60

N855-DM

313/1800

2880*1000*1790

2650

GPC438M6

350

437.5

60

K19-DM

425/1800

3360*1000*1920

3350

GPC500M6

400

500

60

K19-DM

485/1800

3360*1000*1920

3400

GPC563M6

450

562.5

60

K19-DM

507/1800

3360*1100*2480

3520

GPC875M6

700

875

60

K38-DM

821/1800

3760*1500*2480

6950

GPC1000M6

800

1000

60

K38-DM

970/1800

3760*1500*2480

7100

GPC1438M6

1150

1438

60

K50-DM

1291/1800

4500*1500*2480

9200